As I told you on Twitter will my entry for this weeks #LoveWritingChallenge be published on Thursday. It's just easier for me to do it that way…
Instead I give you this post, as I want to talk about my newest read. 😉
You can obviously participate in these questions by either using my translated or the original German version.

What is Reading Together?
"Gemeinsam Lesen" as it is originally called, is a project by German book bloggers Schlunzenbuecher. Each Tuesday you have to answer four questions regarding your current read.
For more information and my old participations take a look at this page: Reading Together.
Without any further ado, let's take a look at today's, obviously translated, questions:
1. Which Book are you currently reading and which page are you on?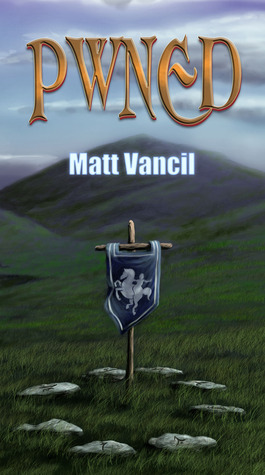 As I saw the package on Sunday I knew I had to put away Irving's essay collection and start with this: PWNED by Matt Vancil.
PWNED is part of the Gamers universe by Dead Gentlemen Productions (DGP) and Zombie Orpheus Entertainment (ZOE) and Matt Vancil is one of the masterminds behind it and JourneyQuest (and more). It tells the story of a young man that tries to win back his girlfriend from the clutches of the MMORPG Fatherall Online by entering the world himself. But as one knows from The Gamers: Nothing is as it seems.
As it's hard to put down and easy to read am I already on page: 105

2. What is the first sentence on your current page?
English:
TIP: Grouping with other players is a great way to earn experience points!
German:
TIP: Sich mit anderen Spielern zu verbinden, ist ein guter Weg Erfahrungspunkte zu sammeln!
3. What do you desperately need to tell about your current book? (Thoughts, Feelings, a Quote, whatever you want!)
For those that don't want to read the Gamers post a short summary:
The respective stories [of the three Gamers movies] follow[s] a group of table top gamers (one in the first one, one for part two and three) and their campaigns, but instead of just talking the audience through what the characters are doing, the actors also take up the roles of their characters and show what is happening during the game, sometimes narrating or commenting it with gaming terms (Attack names, "Critical Hit", etc.).
PWNED tells a Gamers story that never made it on screen. It takes place alongside the third movie, but before the upcoming series. The characters from the "2nd generation" (Lodge, Cass and Leo) are the side characters in this one. When I saw it amongst the add-ons after the Orcish Dictionary campaign I just thought it sounded interesting to read this story rather than seeing it.
The more you get into the Gamers universe, the larger it becomes and with the upcoming Hopjockey-novels (also by Vancil) it'll be clear HOW MUCH, everything DGP and ZOE created over the years is connected. I'm quite excited for this, but for now I'm thoroughly enjoying this one.
It's a bit strange to read the switch between gamer and character, but it's well done and you still know when the perspective is no longer the one looking at it from the outside. As in all of his (their) work you really know that it's done by a gamer who loves what he's doing. It reflects in the chosen words, the descriptions, the little things added to the story (like tips for new gamers at the start of every chapter). It's just great to have something like this, combined with great characters.
I'm really curious how this story will play into the overall story arc and if there will be a connection to The Shadow! The Shadow? The Shadow… 😉
4. Is it important for you to inspire other people (e.g. your children, friends, colleagues, family, etc.) to read?
Uhm….good question…I think it is. At least it always feels great when someone reads something I enjoyed and even better if they enjoy it as well. But I wouldn't push others into reading. When I gush about something and they decide to check it out, well, that's definitely a win. 😉
Additional thoughts
As it's sunny today I went to get some ice cream after work, but they also served waffles, which made for the more appropriate dish for continued reading. 😀
As far as I know is this story only available in English and it is pretty much a gaming-genre read, but maybe there is someone out there who hasn't heard of it yet and thinks it sounds interesting enough to check out?
By the way: If you like stuff by DGP (& ZOE): They have a Kickstarter running for a new series of Demon Hunter's.
PoiSonPaiNter
© For the cover, the quote and the banner belong to their rightful owners.